During the past month, the world recognized the one-year anniversary of the Covid-19 pandemic. We acknowledge the many ways it has been the absolute worst of times – especially for many of our participants, who have been among those most impacted by the economic fallout of the pandemic, structural racism, and uncertainty. And yet, we also want to highlight the many bright points of the last year. Participants in our Family Success Program continued to make big strides forward. We are grateful for your continued support that made progress in the face of a pandemic possible!
Last month we shared the good news that Kissha, a Family Success Program participant, got a salaried job in her field of choice, Information Technology. She was so excited to have this consistent income, getting her one step closer to securing housing for her family.
But still, Kissha faced challenges.
Kissha and her 5 children, plus one grandchild, are all living with her mom in a 2 bedroom home. A four generation household that has children home during the day, playing and doing virtual school, meant it was hard to do her virtual IT work well. A partner, Providence Baptist Church, was able to offer her free and quiet workspace so she could effectively perform her job responsibilities.
But still, Kissha faced challenges.
Kissha lost her vehicle in a car accident that was not her fault and insurance only paid enough to cover what was owed on the vehicle. Without transportation she not only had difficulty accessing the workspace, but also other needs for her family. Thanks to a generous donor, FFC was able to give her family a vehicle. We are passionate about providing support and fulfilling needs like this in order to have a transformational impact on their lives.
Un-prompted, Kissha sent the following note:
"Please tell the donors that this is such a blessing for me and my children. We could not be more thankful for this. I've always taken care of myself and others. I've never had any help in life. And this has changed my feelings towards the world and my life and my depression. All I needed was a push to get back on my feet. This program has really pulled me off the ledge. You keep encouraging me and I can truly say if it was not for this program…the classes, the interaction with the other parents, the financial help and the assistance of my liaison, I would still be laying around depressed.
I have obtained a job in my field
I have gained weight
No longer depressed
Family relationships repaired
Hopefully about to move with my children again
People are telling me that I'm back to my old self
I smile a lot and believe that I can make it.
I had so much on my shoulders and you all have given me a hand. I thank you. I've had a car all my life until 3 years ago when I got hit twice. The insurance paid just enough money to pay off my car but I was in the hospital and lost my job so I had no funds to get another…with 5 kids.
There is no way I could show or thank you enough. This program is sent from heaven and I carry myself throughout the day remembering this representation. I thank you so much. You have no idea where you have helped me to come back from. I am just in shock."
Be A Family Liaison Mentor!
Do you want to work with families like Kissha's? Join us for a Family Liaison Interest Meeting to learn more!
Click Here to sign up

Not convinced? Watch this video to hear what it is like to be a Family Liaison Mentor, why you should sign up for this volunteer opportunity, and the impact this can have on your life.
Rosalyn Kartes is the March Volunteer of the Month!
Rosalyn has been a dedicated Family Liaison for the past 1.5 years, working with her family partner, Quineisha, to help her family gain stability. In addition to supporting Quineisha as she set goals like gaining employment, Rosalyn has also modeled skills like advocating and communicating effectively while helping her family partner navigate resources. Quineisha says "Ms. Rosalyn has brought so much peace and joy to my family. Some days I thought I couldn't make it but from the love and support from Ms. Rosalyn I made it. I want to thank her for being a beautiful person!"
Cadi is the April Volunteer of the Month!
Cadi joined Families Forward Charlotte in August 2020 and serves as a Family Liaison to Kim. Cadi has provided invaluable support to Kim through both her mentorship and friendship over the past year. Cadi has supported Kim in achieving her goal of opening a bank account and beginning to save money from each paycheck. Cadi, Kim and Kim's son also do monthly family friendly outings together as a group, going bowling or to the trampoline park.
We are so appreciative of Cadi's dedication as a Liaison and the impact she is having through her support of Kim!
Sardis Presbyterian Church collected supplies and funds to supply 30 families in our program with Essentials Baskets. Each "basket" was a new trash can full of Spring cleaning supplies and laundry detergent. Each family also received paper products and a grocery gift card thanks to Sardis members. Special thanks to Vicky Hovis for organizing the donations and packing each basket!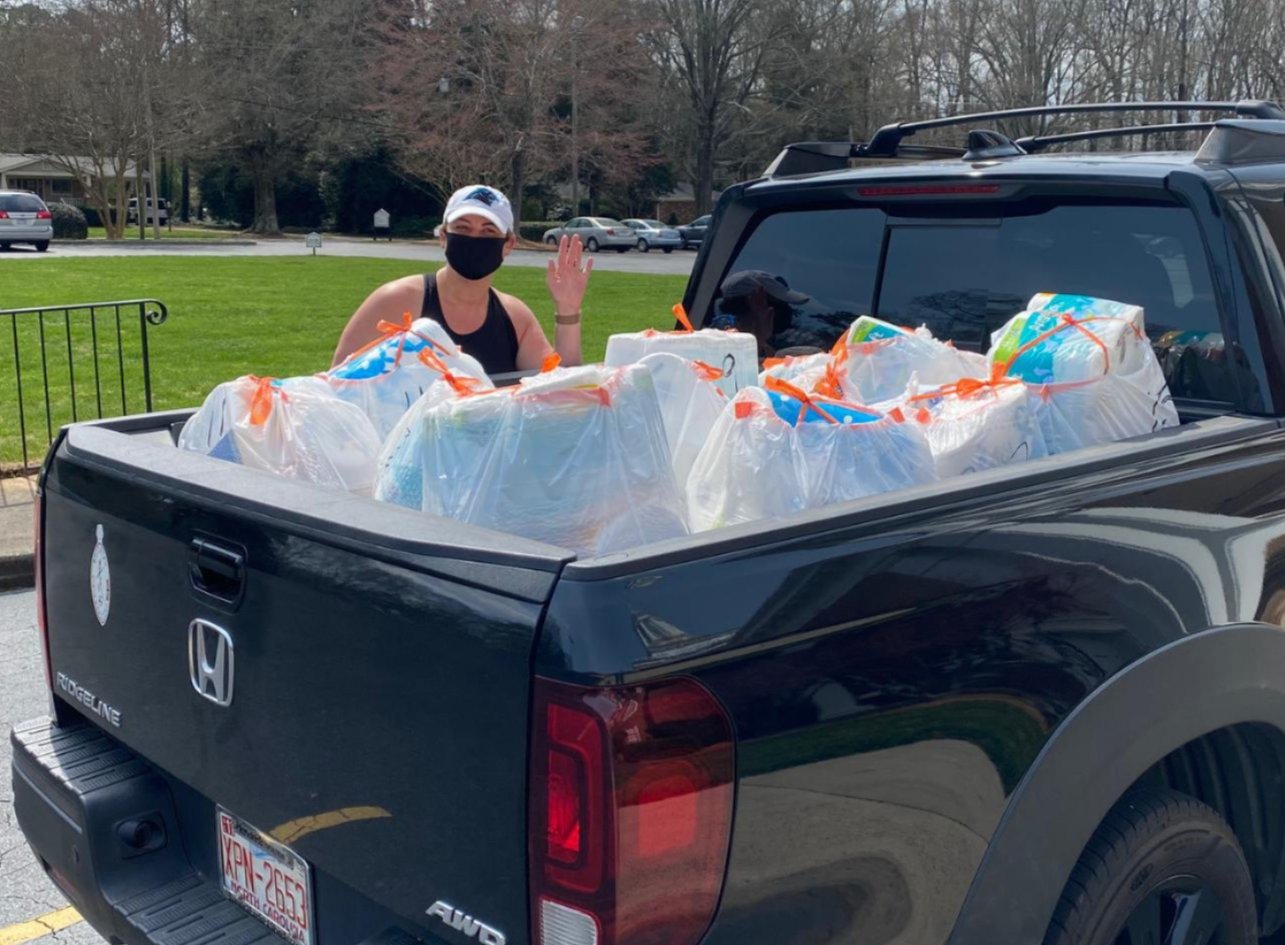 The CDO Chief Operating Office at Bank of America sponsored, shopped for, packed and delivered 15 Essentials Baskets filled with cleaning supplies, toilet paper, and other household essentials! Thank you to Lauren Robinson for organizing this to support the families in the Family Success Program!
For the second time this year, Carolina CAT sponsored, shopped for, and packed 10 Essentials Baskets filled with cleaning supplies, toilet paper, and other household essentials! Thank you for supporting the families in the Family Success Program!
Corporate Sponsor Spotlight